Marine Boiler Energy Conservation and Audit Reporting
With rising fuel prices and a sluggish freight market, every ship owner is looking for ways to save money while keeping his business profitable.
Aside from energy recovery systems, ships have begun to employ a number of cutting-edge technologies to reduce energy consumption and make ships more environmentally friendly. Since fuel makes up the majority of the ship's daily operating costs, any reduction in fuel consumption contributes to the establishment's profitability. 
With this in mind, many businesses have taken a proactive approach to fuel efficiency and conservation.
What is an Energy Audit?
An energy audit is the first step toward implementing an exercise in energy efficiency on ships and reaping the benefits of the savings. Energy auditing entails identifying key areas for energy conservation and then developing a program to implement it.
A ship is usually at the peak of its efficiency during new construction, and the guaranteed speed, SFOC, and other parameters are tested in sea trials before being handed over to the buyer. However, as the ship ages and the machinery ceases to function properly, efficiency begins to decline and FO consumption begins to rise.
At this stage, an energy audit can identify key areas of loss and assist in generating significant savings.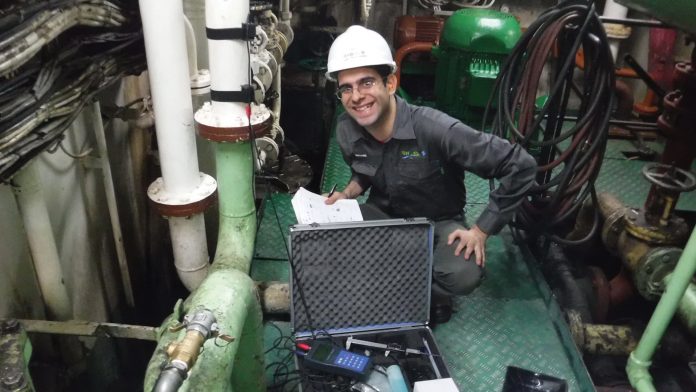 Objective of Energy Audit on Marine Boilers 
The following is the goal of conducting an energy audit:
To identify areas where there is a loss of energy due to inefficiency or incorrect operation and to save money by correcting it.

Identifying areas where newly developed technology can provide cost savings.

To present the information to the buyer in such a way that no one is offended, so that he can make an informed decision based on cost and profit.

To improve the ship's energy efficiency by saving fuel, as well as to reduce global warming through emission control and help the ship go green.
Energy Audit Contents
The energy audit seeks information about things that are taken for granted and frequently ignored. It investigates the energy consumed by the ship per day while at sea and in port. It identifies the processes that use this energy and ways to save energy. It also evaluates the effectiveness of management control in implementing the recommended changes.
The energy audit report also emphasises the importance of plant metering and control, such as the running hours of the pumps, air compressors, boiler firing time, and fuel used, among other things.
The energy audit seeks information on things that are often taken for granted and ignored. It investigates the amount of energy consumed by the ship per day while at sea and in port. It identifies the processes that use this energy and suggests ways to save energy. It also evaluates the effectiveness of the management control that can be exercised in carrying out the recommended changes.
The energy audit report also emphasises the importance of plant metering and control, such as the running hours of pumps, air compressors, boiler firing time, and fuel used, among other things.
Marine Boilers Energy Audit Processes 
In general, regardless of the machinery or industry, the following steps are followed in an energy audit:
Data collection: For the applicable machine, all relevant data is collected. Data can be collected mechanically using devices such as counters. Running hour indicators, event logs, and so on. In the absence of these, the duty engineers and operators are interviewed.
Condition Evaluation: The machinery's condition is assessed, and it is determined whether any overhaul or component changes can improve its performance.
Economic Alternatives: The audit will also inform the owner of the available economic alternatives and assist him in making a decision.
Audit Report: Finally, the energy audit report is completed.
Marine Boilers Energy Conservation and Optimization Opportunities
The following are some additional areas where energy conservation and optimization opportunities exist:
Heat Transfer Area Efficiency
The boiler's heat transfer areas must be monitored. The soot blowing of the boiler must be done on a regular basis because soot buildup acts as an insulator and reduces the heat transfer rate. This means that more fuel will be required to generate the same amount of steam. The same is true for scale buildup in the tubes.
The stack temperature should be monitored on a regular basis, and any increase indicates that heat recovery is not optimal. If the funnel temperature rises by about 40 degrees Celsius after the last cleaning, it indicates that the boiler needs to be cleaned.
Heat Loss Caused by Inadequate Insulation
The boiler, steam lines, and condensate return to the hot well must all be well insulated. Insulation is damaged or worn out over time. Any analysis using an infrared camera or thermometer can identify hot spots and optimise fuel consumption.
Hot Well Temperature Optimum
The hot well temperature must be kept between 80 and 85 degrees Celsius, as specified by the manufacturer. A lower temperature causes colder feed water to enter the boiler, increasing fuel costs due to heat loss. A hot well that is overheated will cause vapour lock in the feed pump and loss of suction.
Losses from Steam Traps
Steam traps are used to discharge condensate, prevent live steam from escaping, and remove air and noncondensable gases from the line. However, it is a largely unnoticed component of steam piping. 
Sticked open steam traps allow live steam to escape, resulting in heat loss and an increase in condenser load. A stuck shut steam trap reduces the capacity of the equipment to which it is supplied.
Losses from Radiation and Convection
The exposed surfaces of the boiler body lose a lot of heat to the surroundings. The loss is greater in cold climates. These losses can be reduced with proper insulation.
Improve Boiler Steam Pressure
After optimising steam usage, running a boiler at a lower pressure will reduce fuel consumption.
Variable Speed Drive Installation
Throttling is used by the air dampers to control capacity. These old capacity control methods are inaccurate and have poor control characteristics at the top and bottom of the operating range. 
If the boiler's steam demand is variable and fluctuates, replacing the damper type air register with the new electronically controlled variable speed drive forced draught fan should be considered.
Reducing Steam Leakage
Though it is a well-known fact that steam leakage results in energy and fuel loss, many steam leaks go unnoticed due to fear or apathy. Many boiler operational issues can be avoided simply by controlling leaks.
Marine Boilers Audit Report on Energy Saving Measures
The boiler audit report must include the energy opportunities available, the investment required, fuel savings, and returns. The owner must be informed about the project's economic viability and feasibility. 
There are three types of energy measures that are recommended.
Immediate Returns

: Those energy-saving measures that provide immediate returns and require no investment. For instance, overhauling the burner, calibrating the air register, cleaning soot from the tubes, repairing steam traps, and so on.
Medium Term return

:Those energy-saving measures that require a low initial investment and yield a medium-term return. These can include things like changing the burner and air register, changing the insulation, retrofitting the furnace with a new burner, and so on.
Long term return

:These require significant investment and will only benefit in the long run. For example, if the boiler is old and inoperable, or if it is under or over sized. Replacing an old boiler with a new, more energy-efficient boiler could be a good strategy. It is only recommended if the company intends to keep the ship for an extended period of time.
Financial analysis of the energy saving measures is the most important part of a boiler energy audit. Annual cost savings from the upgrades, retrofits and replacements must be provided to enable the owner to make the correct decision.